Premade Vs Form-Fill-Seal Equipment
Looking into adding automatic flexible packaging machines to your operation?
You've been considering all of your options when it comes to machinery, perhaps even spoken to some different manufacturers about your business needs. Now comes a major decision: Do you want to manufacture and fill the pouches (Form-Fill-Seal) or use premade pouches (Fill-Seal)?
Your answer will send you in the direction of two different types of machinery with lots to think about. There are three main equipment types:
Premade Fill-Seal

Vertical Form-Fill-Seal

Horizontal Form-Fill-Seal
Unsure of which will best fit your needs and business? Here are five questions to ask yourself.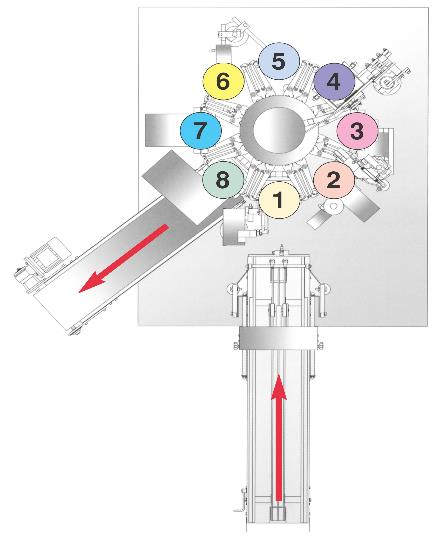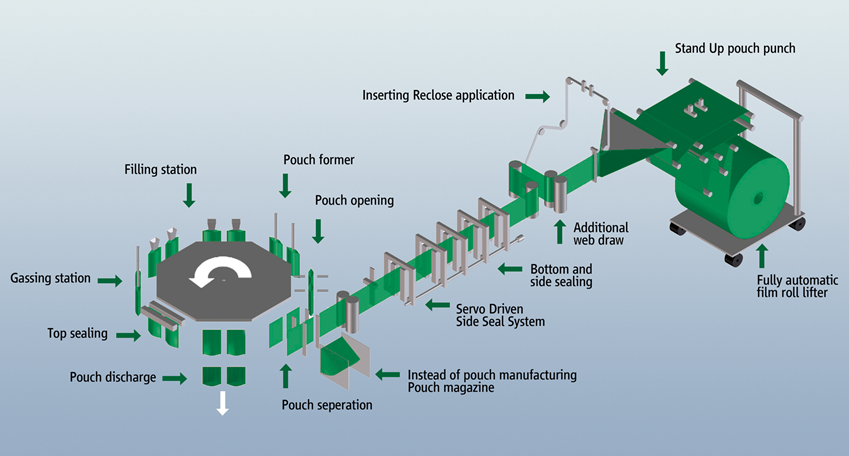 1. How fast do you need to package your product?
If speed is your foremost consideration, then a horizontal form-fill-seal machine is your best option. Not only will it create premium-looking pouches, but it is also the fastest machine on the market with speeds over 500 pouches per minute!
If you are looking for more entry-level automation and pouch size flexibility, a premade pouch machine is worth looking into. Premade pouch machines range from 35-45 pouches per minute in Simplex and up to 60-90 pouches per minute in Duplex!
2. How much are you willing to spend on packaging equipment and materials?
The cost of packaging materials and equipment is dependent on many things. Working with a film supplier can help you get a correct cost estimate. Usually, pre-made bags cost more than using rollstock film. While rollstock film may appear cheaper, the User assumes the responsibility of forming the pouch and paying for things like scrap, set-up, and labor that come along with it.
Conversely, the pouch material cost savings of form-fill-seal technology can quickly become negligible with a poor performing machine, lack of operator training/knowledge, or trying to run too many SKU's (short runs). However, all things equal, using a form-fill-seal machine will decrease your pouch cost. 
As for the equipment itself, vertical form-fill-seal machinery is the least expensive followed by premade pouch equipment. Horizontal form-fill-seal equipment tends to be the priciest of the group. It is important to focus on your ROI, as a more expensive machine may result in a quicker ROI which makes more sense in the long run.
3. How technically trained is your staff? 
When using a form-fill-seal packaging machine, you create your own pouches from rollstock. These machines are state of the art, and can only be as efficient and fast as your operators allow. Your operator needs to be qualified and well-trained to ensure optimal output.
Premade pouch machines are generally much easier to operate. With changeover and troubleshooting done via touchscreen, operators with limited experience can become experts very quickly.
The technical experience of your machine operators, production staff, and maintenance crew is essential. Even the fastest, most efficient machine in the world can perform incredibly poorly with an untrained operator and a lack of machine maintenance. 
4. How many different bag types and styles do you have? 
If you will be running many different pouch sizes, shapes, or styles and need to change over a number of times in the day, premade pouch machinery is your go-to. They are better suited for shorter runs and have tons of product and pouch style/size flexibility.
If you have longer runs, limited changeover, and require faster speeds, a form-fill-seal packaging machine is the better option.
5. What type of shelf presence are you looking for?
For Stand-Up Pouches, there is no question that using a premade pouch provides you with the most premium-looking finished product.
A close second is a high-quality horizontal form-fill-seal machine followed by a vertical form-fill-seal machine. The average consumer probably can't tell if a pouch is pre-made or done on a horizontal machine. The same can't quite be said for a vertical machine making a stand-up pouch in which the difference in quality is noticeable.
If you are looking for a 3-side-seal or sachet, speed and product types become the determining factor between horizontal and vertical form-fill-seal.
So what type of packaging machine is right for you?
Final Recommendations
There is no one-size-fits-all answer when it comes to selecting flexible packaging machinery. Your choice of packaging equipment must take into consideration many factors that will be unique to your packaging project. For example:
Marketing Department Requirements (bag styles, advertising area, aesthetic appeal, and shelf presence)
Consumers (size, portability, convenience, resealability, and easy-open options)
Logistics (weight and shape of your packaging and how that relates to shipping costs, case packing, and palletizing)
Cost (materials, machine, shipping, maintenance, and installation)
Timing (lead time along with shipping and FAT time)
Growth (what will you do when you need more capacity)
Complete line or just a single piece of machinery? Make sure to talk about conveyors, inspection, case packing, and palletizing equipment.
Premade Pouch
Copacker
lots of changeover
many SKU's (sizes, styles, and products)
shorter runs
less qualified operators
limited floor space
under 100 pouches per minute
more features such as double dump, scoops, and desiccants
Vertical Form-Fill-Seal
Simple 3 side seal
pillow pouches
small footprint
limited products and sizes
non-liquid
Horizontal Form-Fill-Seal
fastest speeds and efficiencies
longer runs
technical staff
more capital expenditure and floor space
longest lead time
more features such as double dumps, scoops, and desiccants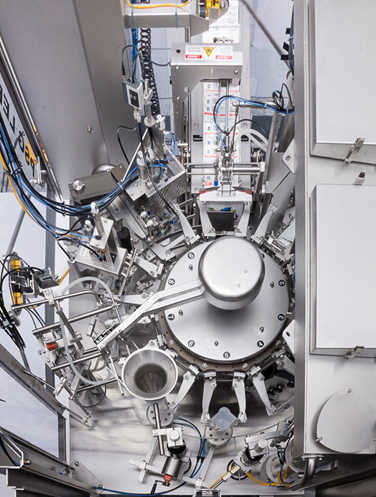 TL;DR Version:
Once you know your SKU's (pouch sizes, styles and fill weights) along with ideal run speed, the most important thing is to begin conversations with someone who knows all of your equipment options inside and out. The second most important thing is to speak with some that will LISTEN to YOUR needs and not just try to sell you what they want.
Reach out to us today and so that we can get you headed in the right direction!