PSG LEE: PREMADE POUCH Packaging Machine
Licensed to sell under the PPi Technologies GROUP Banner
The PSG LEE Premade Pouch Packaging Machine is ideal for co-packers and any company looking for:
production flexibility

high speeds

high efficiencies
Using premade pouches allows for the most premium quality in the finished pouch look, while giving you the maximum amount of flexibility (changeover via the touchscreen in minutes)!
Automatic Quick Changeover in minutes via Touchscreen

Runs a variety of premade pouches without any change parts

Troubleshooting Via Touchscreen

Large Pouch Size Ranges

Extra stations for multiple dumps, desiccant/scoop insertion or other processes

30 - 180 Pouches per Minute (Simplex / Duplex / Quadro)

All Models Available in Wash Down Specification and/or Opposite Hand Configuration

Easy integration with any filler or scale
Patented Flexible Fill Funnel eliminates bridging

Patented Diving Mechanical Zipper Opening Fingers ensure every zipper opens

Reject Station for unopened or unfilled pouches ensures that no pouch is wasted

No Pouch / No Fill/Seal System prevents product from dumping and machine from sealing so the pouch can be reused

Small Rotary Footprint
Preprogram all recipes and SKU's

Changeover and Troubleshooting via Touchscreen

Training and Maintenance available before, during and after installation

Over $3 Million in Spare Parts

Online Diagnostics and Reporting

Troubleshoot with our techs via Facetime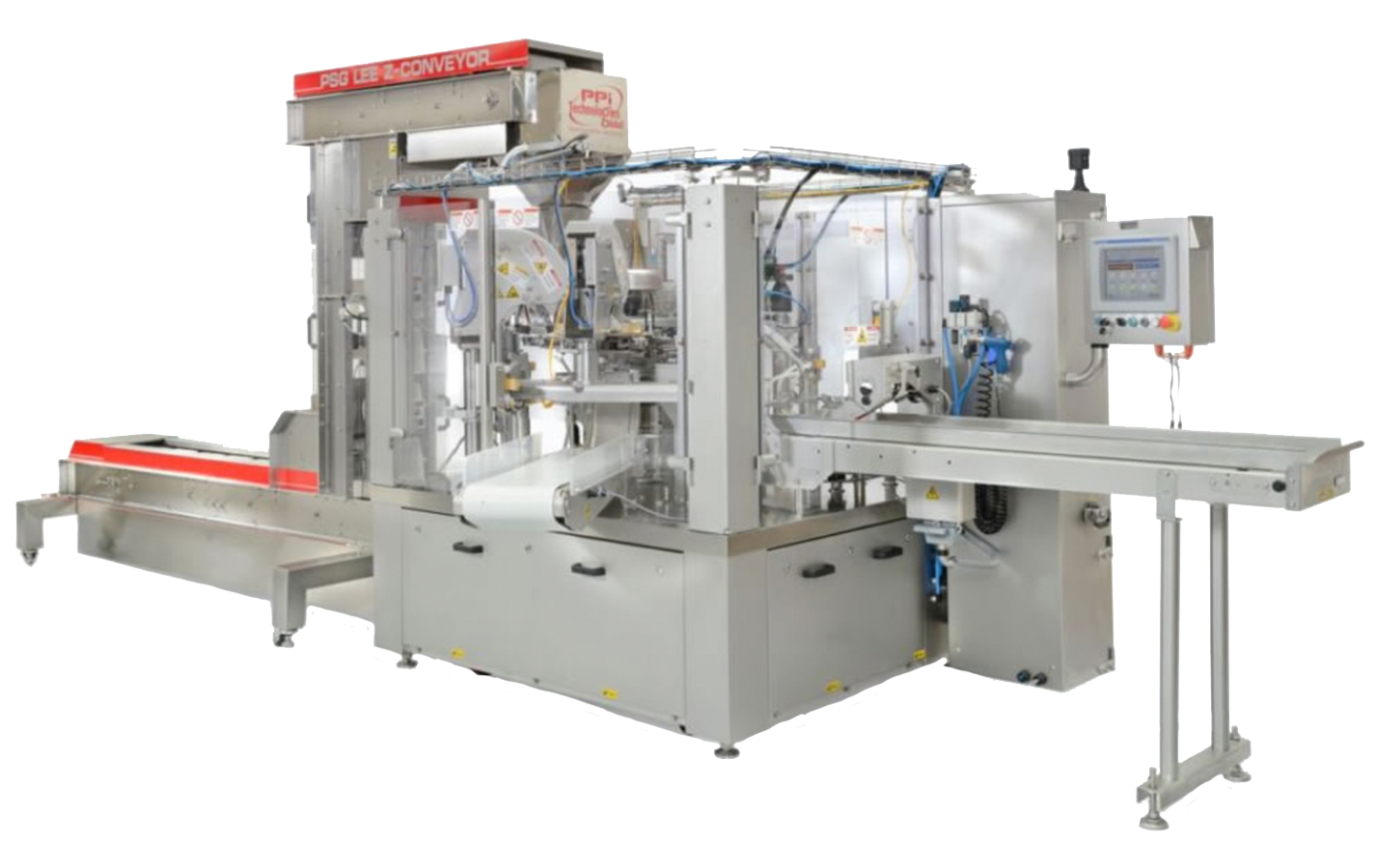 DOWNLOAD THE PSG LEE BROCHURE
Get the specifications for the psg lee
PSG LEE Duplex Complete, Turn-Key System!
PSG LEE with Automated Scoop Inserter
PSG LEE RD-318 Duplex w/ Integrated Bowl Feeding
What products can the PSG LEE Fill?
PSG LEE Filling Wrapped Candy
PSG Lee Simplex Running Granola
PSG Lee with Checkweighing and X-Ray for Powders
PSG LEE Duplex with 2 Part Fill (Rice and Liquid)
PSG LEE Side Gusset (RG-108)
PSG LEE QUAD 4-UP (RQ-332)
interested In The PSG LEE?
Get a free Quote & Consultation