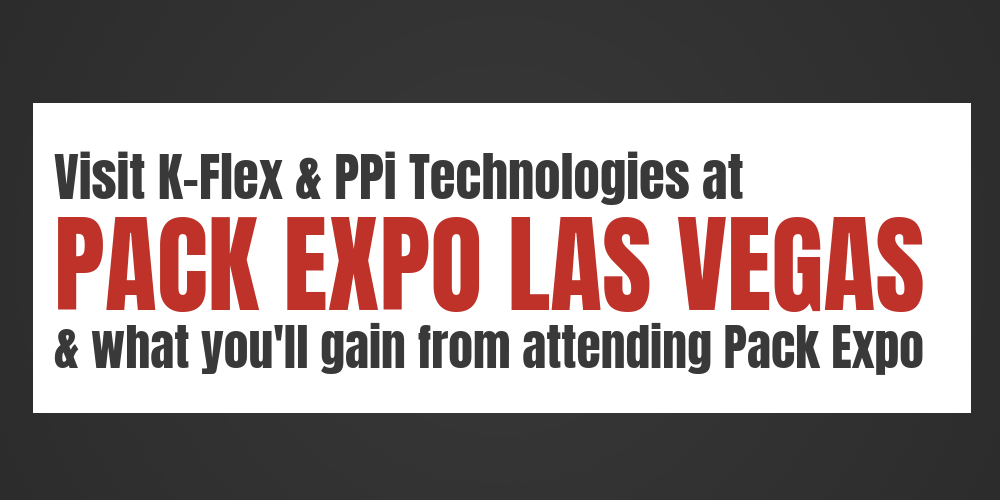 It's that time of year again! K-Flex Packaging Systems is very excited for what we know will be our best Pack Expo ever! From September 23-25, you will find us in the PPi Technologies Group Booth #5228 at Pack Expo Las Vegas!

Whether you're new to the industry or a seasoned veteran, there is always something new to learn at Pack Expo.

WHAT WE'LL BE BRINGING TO Pack Expo

This year, in addition to our standard show lineup, we will be launching the brand new Radpak Flex Case Packer. Capable of case packing pouches vertically AND horizontally, this is our most flexible case packer ever!
We will also be featuring the PSG LEE Duplex Premade Pouch Machine, Caveco Tray Sealer, Aranow Stickpack Machine and SN Horizontal Form-Fill-Seal Equipment!

WHAT YOU WILL GAIN BY ATTENDING Pack Expo

See Technology in Action

Pack Expo offers attendees a rare opportunity to see technology in action. It can be difficult to gauge the fitness of a piece of equipment simply by watching videos online. Attending Pack Expo, you will be able to watch and compare the quality and effectiveness of a wide variety of equipment.

This is one of the main reasons we always attend expos. Our packaging equipment is best understood and appreciated when you see it up close and personal. Additionally, we will be right there to answer any questions you may have.

Creative Solutions

Another benefit to attending Pack Expo, this is a great place to find the solutions you seek. Whatever obstacle your business may be facing currently, you're almost guaranteed to find a few possible solutions at Pack Expo.

Internet research is where we often turn for answers. It makes sense. The internet is bursting with insight and data. But sifting through all the possible answers can be overwhelming and discouraging. Visit us at Pack Expo so we can discuss customized solutions for your business. We can help you balance the right speed, efficiency and budget.

Gain a Competitive Edge

Even if your business is thriving, there will always be competition. It is essential to stay ahead of the game. Attending the Pack Expo is a valuable opportunity to gain insight as to what everyone else is doing. Find out what is working, what isn't and how you can take your operation to the next step.

REGISTER FOR FREE TODAY

If you're ready to commit, we have a gift for you. Using code 32X97, you can register for free! As business owners ourselves, whether or not you're in the market for packaging equipment, we want you to grow and thrive. Attending Pack Expo is an amazing opportunity to take your business to the next level.

Please visit us in the PPi Technologies Group, Booth #5228. We encourage scheduling an appointment so we can set aside ample time to answer your questions and address your needs.

SEE YOU IN VEGAS!