PACK EXPO CHICAGO OCTOBER 2018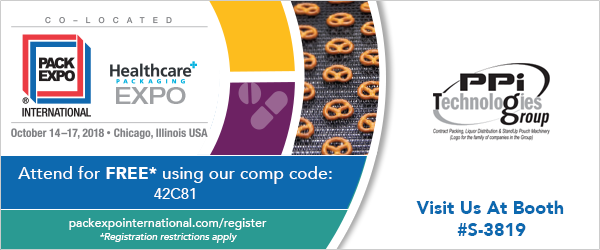 Join us at Pack Expo Chicago!
October 14-17 in Booth S-3819!
Use our comp code for FREE registration: 42C81.
Please email or call to set up an appointment to discuss a current or future packaging project!
With increasing demand for high quality products, there is more and more room for almost anyone with a good idea and effective business plan to carve out a piece of the market for their own. You may have the product, but is your automated machinery operating at maximum efficiency and speed? Are you in the market for new, innovative equipment that translates to cash in your pocket?
Visit Arnie & Rich Kamrin in the PPI Technologies Group Booth at Pack Expo Chicago to learn more about how our team can help support your business!
HOW DO I BENEFIT FROM ATTENDING THE SHOW?
Developing a product that will add value to the lives of your customers is the first and most important step in building a successful company. But once you have that product nailed down, there is still ground to be laid before your business becomes the self-sustaining machine you intend it to be.
Pack Expo International is known as the largest packaging event in the world! They facilitate and host packaging events for many top industries. Because they are the largest and most highly regarded packaging event, you can expect the largest number of quality and knowledgeable vendors to be in attendance at this show.
Here, you will be able to gather all the information you need to make the best decisions for the growth of your business. You can visit vendors in person and view machinery before it's even quoted! Capital Equipment is expensive, so being there in person makes a big decisions like this, a little easier to stomach.
In addition to the vendors, you can take advantage of the free 30 minute educational seminars. Pack Expo will host an Innovation Stage where you can learn about hot topics and breakthroughs. The benefits of attending in-person seminars as opposed to reading the information from the internet, is the ability to chat with others and discuss insight and questions.
IT SOUNDS OVERWHELMING!
We know that the numbers can be intimidating. With 2,500+ vendors, and 50,000+ in attendance, it can feel like you will only get lost in the mix, and lose yourself in a panic attack. But with the glory of technology, you can prepare your visit in advance by visiting the website and downloading the show app. This app will help you to know who is who and where you can find them. This eliminates the need to visit every vendor and sift through the non-essentials.
BUT I'M JUST A SMALL BUSINESS OWNER
No matter the size of your business, you are just as important as the next! Don't downsize your value as a small business owner. Recent studies show that small and medium businesses account for more revenue than you might imagine!
More and more, consumers are drawn to companies that are privately owned or independent from the masses. Trust us, there is room for you in the market and at this event. This event is for you, no matter where you are at in your business venture.
HOW MUCH DOES IT COST?
Registering as an attendee at the Healthcare Packaging Expo, is affordable at the low price of only $30! However, we can drop that to FREE. Because we support your business venture, you can use the PPI Technologies Group code (42C81) to gain free entry.
WHAT WILL WE BE OFFERING?
We never miss a Pack Expo International event. Being experts in the field of automatic packaging equipment, we know our product and knowledge is an invaluable resource for you when building your business.
This year, we will be featuring…
PSG LEE RD-314 Duplex in Wash Down Configuration (
SOLD
by K-Flex)
The new SN FBM 300 H "HYGIENIC" machine – in Duplex / Triplex configuration
(
SOLD
)
Radpack RM 32 Pillow/Standup Pouch VFFS
Aranow an650 Stickpack
Valmati Miri Unit Dose
https://www.youtube.com/watch?v=OSLFvirgsCo&feature=youtu.be
CaveCo Yipsilon Tray Sealer
PSG X-Ray
Sealscope Seal Inspection
CONCLUSION
When it's all said and done, Pack Expo is an event not to be missed by anyone using, or thinking about using, automated machinery.
Knowledge is power and your greatest resource in being successful. Come see what's new!
K-Flex Packaging Systems and PPi Technologies Group look forward to seeing you there! Don't forget to stop by booth #S-3819, and say hi! We recommend making an appointment ahead of time if you have a specific project to discuss. Please email Rich at rich@kflexpack.com or call his cell at 941-350-1282 to set this up!
See you in October!