Monthly Feature! The PSG LEE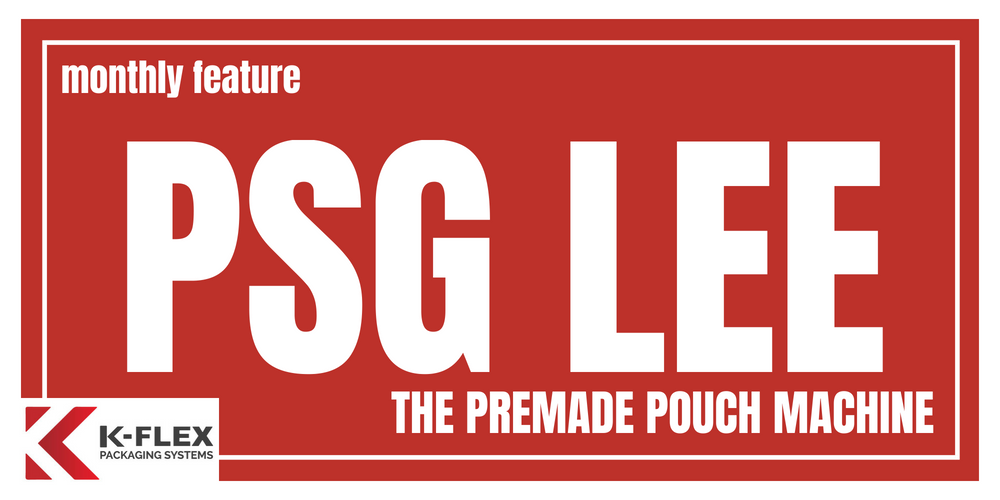 Every business and every product is different. Here at K-Flex Packaging Systems, we know there isn't just one machine suited for all jobs, but there is always a machine best suited for each job. Each month, we are going to highlight one of our packaging machines. In each post, we will focus on the machine's strengths, highlighting which tasks and businesses it is best suited for. In this endeavor, we hope to help you make the best decision for your business needs.
PSG LEE: The Flexible, Compact & Efficient Premade Pouch Machine
We are going to start by discussing the PSG LEE: Premade Pouch Machine. This particular piece of equipment is ideal for copackers, businesses running multiple SKU's and anyone looking for production flexibility. The PSG LEE shines in a variety of ways including efficiencies, changeover via touchscreen, intuitive troubleshooting touchscreen, compact footprint and operator simplicity.
FLEXIBILITY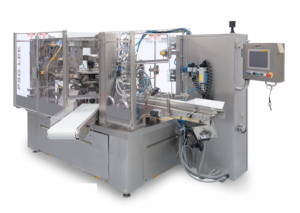 The biggest reason that the PSG LEE is a copacker's dream is its flexible features. The flexibility of the PSG LEE comes in its ability to run a variety of premade pouches including stand-up pouches with or without a zipper, corner fitment pouches, and three-side-seal bags. The speed and ease of changeover from one pouch to the next via touchscreen is an impressive time saver.
In addition to versatility of packaging, the PSG LEE is also capable of packaging a variety of products including food, beverages, liquids, chemicals, nutraceuticals and pharmaceuticals.
SPEED
For those of you packaging multiple products, even if you are not a copacker, one of our favorite features of the PSG LEE is how quickly you can change from one pouch to the next. This is made possibly via the touchscreen, requiring no tools whatsoever.
In addition to switching pouches quickly, the PSG LEE also runs at an impressive rate. The PSG LEE cycles at 60 pouches per minute and is available in Simplex, Duplex and Quadro. Depending on the pouch and the product, the PSG LEE can run between 30 and 200 pouches per minute!
EASE OF OPERATION
Packaging machinery is complex, but that doesn't mean it has to be complicated to run. You shouldn't have to be an engineer to understand how to operate the PSG LEE. It's the most user-friendly packaging machine on the market.
Aside from the ease of the touch screen, all of the other working components of the PSG LEE are easy to follow, understand, and master. K-Flex Packaging Systems is here to help should you have any questions regarding your chosen equipment. We partner with PPiTG who offers classroom and in field training.
EFFICIENCY
The PSG LEE is one of our most efficient machines performing at 95% at max speeds! It is also programmed to engage in troubleshooting, always knowing when there is a problem, and how to fix it. Enhancing the efficiency of the machine, the PSG LEE is also fitted with patented diving mechanical zipper opening and patented flexible fill funnels, custom designed for your specific product.
The PSG LEE is also smart enough to not dispense a product, if for some reason the pouch has not arrived to its destination on the line, or if the pouch does not open. The machine will detect that there is nowhere for product to go. In addition to not dispensing, the seal bars will not close, allowing you to reuse the pouch. This feature saves time, money, and product mess and waste.
EXTRA STATIONS
There are additional stations you can choose to add to your PSG LEE, including additional product dumps, printers, gas flush, scoop insertion, dust extraction and seal inspection. We will work closely with you, learning your needs and your budget, to determine what features would serve you best.
A great feature to add is an auto reject station. With the PSG LEE, you have the option of adding SealScope to your machine, which allows for discharge of a bad seal before it hits the rest of the line. This feature saves time, money, and enhances the overall quality of your brand and product.
IS THE PSG LEE RIGHT FOR YOU?
We hope that our feature post on the PSG LEE has helped you determine if this is an optimal machine for your needs. If it is not, feel free to reach out and discuss your needs and we can help you determine what machine is best for your business.
At K-Flex, we quote run speeds and efficiencies based on in-house testing of your products and pouches. We will also do a factory acceptance test (FAT) at PPiTG so you can see your pouches and products run on your equipment. Once completed, we won't ship your finished product to you until you sign off saying it is running exactly, or better, than promised!
For further details on the PSG LEE, visit our page and download the PSG LEE brochure.
Stay tuned in the future for other feature posts highlighting each packaging machine and its strengths. Here at K-Flex Packaging Systems, our goal is to ensure your success, through choosing the best machine with the best service for your packaging needs.
Do you currently use the PSG LEE or think it might be a good fit for your business? Let us know your thoughts and questions in the comments. We would love to hear from you!