Automatic Pouch Packaging Benefits for your Natural Product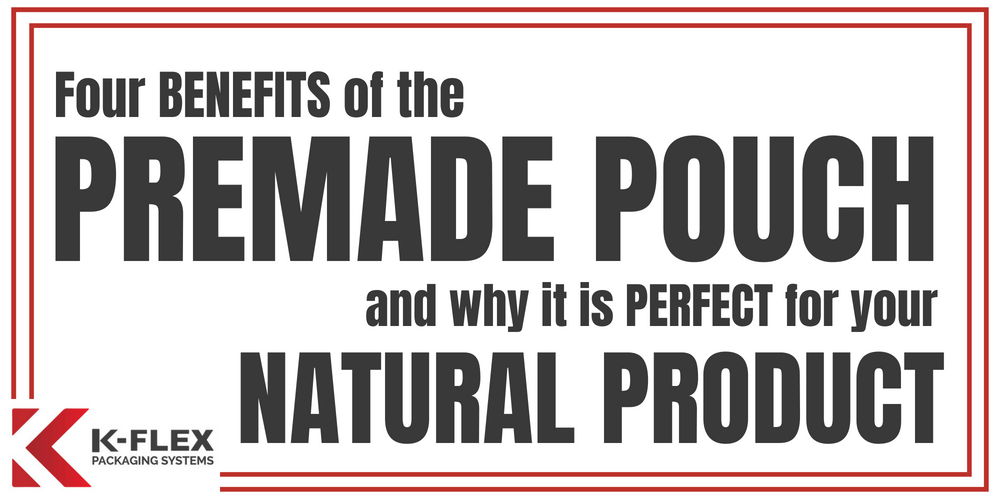 K-Flex Packaging Systems specializes in knowing what packaging system and pouch is right for your business and with Automatic Pouch Packaging Benefits.
In recent years, the popularity of natural products has skyrocketed. People are learning that the environment, our health, and the economy is suffering. With this turn to natural, green, and organic, came a need for modified and enhanced packaging solutions. Natural product business owners are finding that the Stand-Up Pouch allows for:
Increased packaging efficiency and less waste - no need to ship and store 'air' (i.e., empty clamshells or cans which translates to less trucks on the road and less storage space needed). See

Christopher Ranch testimonial

)

Additional marketing real estate on the pouch with more volume in a smaller shelf footprint

Option of shapes and various material finishes to stand out on the shelf

Various reclosability and single serve options which appeal to the consumer
Here are four benefits of using automatic pouch packaging for your natural products!
The Pouch is Perfect for your Natural Product
ALIGN WITH YOUR ETHICAL VALUES: Automatic Pouch Packaging Benefits
As a purveyor of a green product, there's a good chance that product was born out of your commitment to responsible and conscious consumerism. Because you choose to provide a product that is better for consumers and the environment, your business plan and systems should align with those values as well.
Automatic pouch packaging systems produce far less waste than systems producing bottles or or cans. Another popular option right now, is to utilize pouches made from recycled or compostable material.
Take a look at the following links to learn more about our commitment to the environment and recyclability options.
STYLISH BRANDING
The power and potential of branding has seen an influx of attention recently. With innovations in design, more and more businesses are investing in their brand image. Quite often, consumers choose packages with eye-catching colors or sleek and unique designs. Here, you can see a terminated side gusset which allows for more product volume without taking up additional shelf space, a product window so the consumer knows exactly what's in the pouch and VELCRO® Brand's exclusive PRESS-LOK® closure system making reclosability a dream.
Your product is unique to you, and your package should reflect that. Pouches offer more versatility when it comes to your brand design. Today's consumers are falling in love with trendy product pouches. GU has made a wise marketing decision moving to a larger format pouch with a corner fitment. Consumer's often shop with their eyes, and this is an eye-catching pouch.
REDUCE PRODUCT LOSS
Automatic pouch packaging systems are multi-capable in their design. A consistent and popular feature is the ability to detect error in the flow of the system. As the machine is automatically dispensing product into the line of oncoming pouches, if it detects there is no bag below the filler or it is not properly open, no product will dispense.
In addition, the automatic pouch packaging machine will be set to dispense a very specific amount of product. This feature eliminates the possibility of over or under filling. Both of these features aim to reduce product and pouch loss, which is a key benefit of automatic pouch packaging for your natural product.
INCREASED SHELF LIFE
One of the most important factors in packaging, is ensuring a secure seal and proper environment for your good. Different products are sensitive to different environments. Quality and safety could be compromised by an improperly sealed bag or the improper environment in the bag. Automatic pouch packaging systems are fitted with seal detection devices that ensure the pouch is properly sealed every time.
One of the biggest selling points of natural products is that they most often are free of preservatives. One way you can ensure your product stays fresh and has a long shelf life, is to utilize Modified Atmosphere Packaging technologies with your pouch. Instead of injecting foods with chemicals, the oxygen inside the package is replaced with a protective gas mix that extends the shelf life of your product.
At the end of the day, you know you're doing your part in the movement for a cleaner and greener world, by sharing your natural product with the masses. Take your commitment to green one step further by ensuring your process is align with your values. This step will set you and your business up for success. Contact us at K-Flex Packaging Systems today to learn more about the automatic pouch packaging benefits  for your natural product.