FME 50 Packing Machine Applications
Food, Pet Food, Nonfood, Seeds, Pharmaceuticals, Household and Personal Care.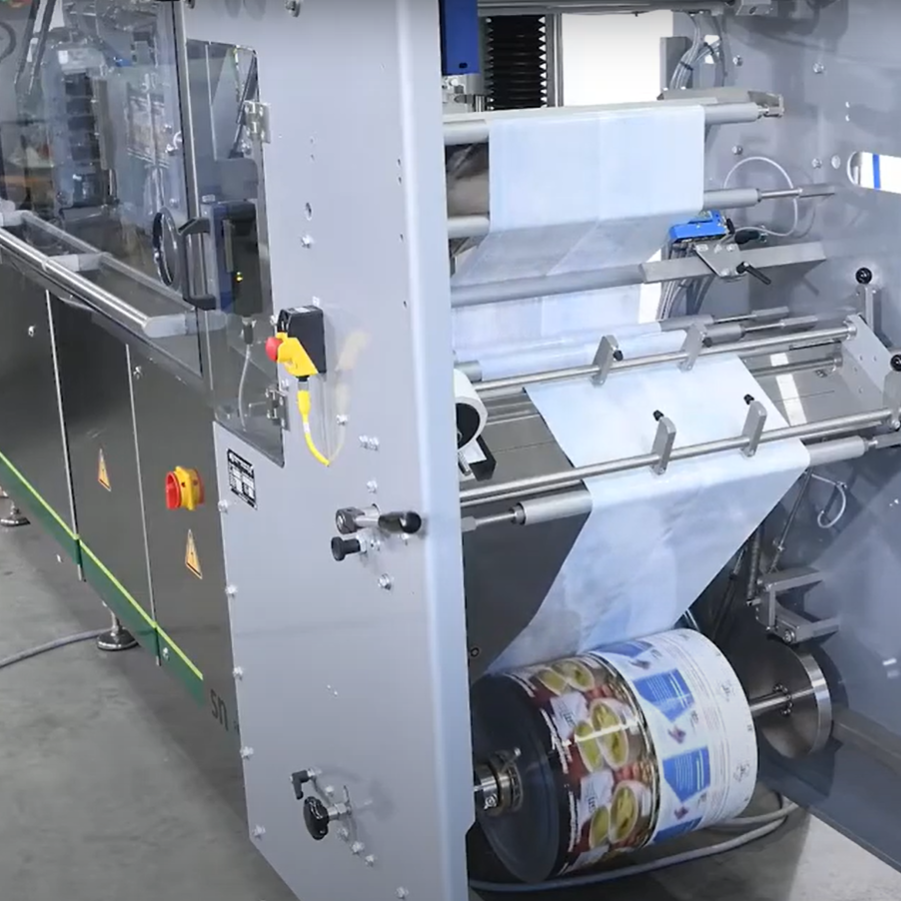 Interface for multihead scale or auger doser
Single sealing frames with quick and simple format changeover
Folding wedge adjustment for bottom fold width (manual execution)
Very low power consumption: ca. 2 kWh during production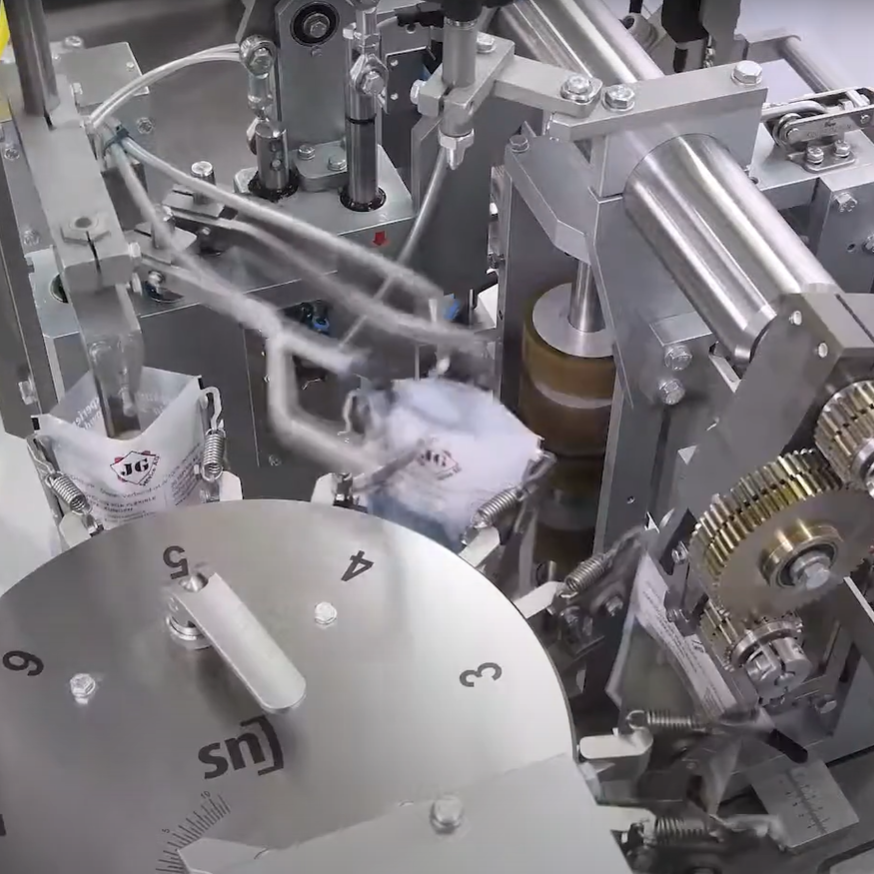 Seal bars automatically retract from film during machine stops
Format changeover in less than 15 minutes
Central gripper adjustment for pouch width (manual execution)
Machine-integrated control cabinet
Exemption of the sealing tools during machine stops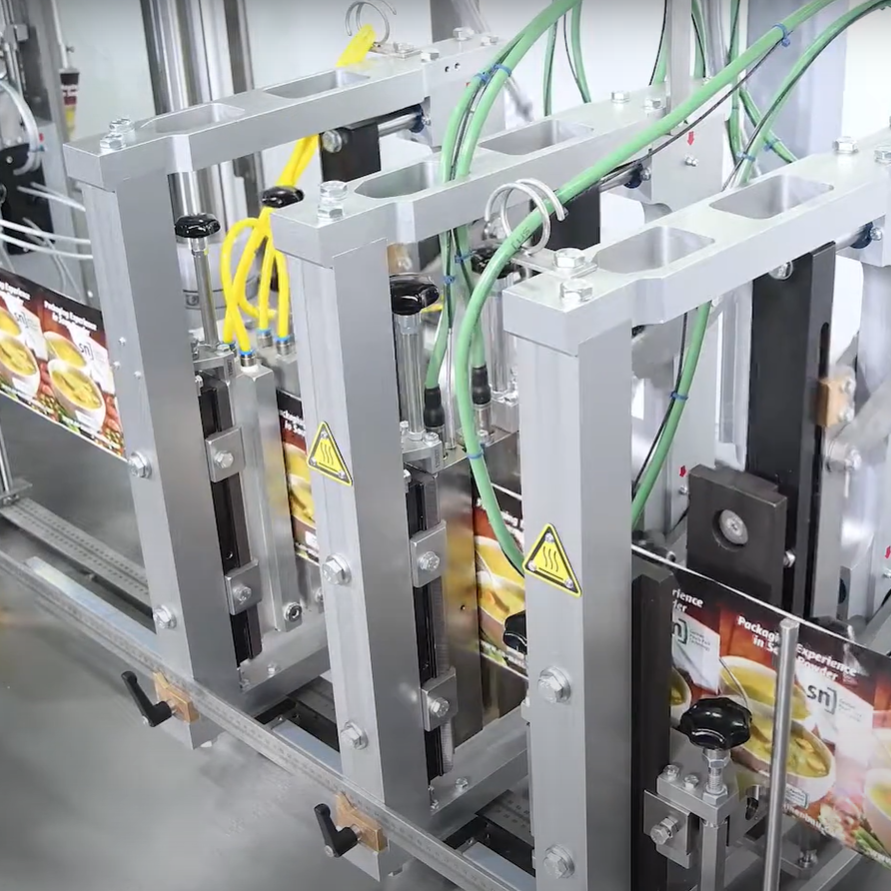 Quick commissioning – plug & play
Simple machine operating - short training
Compact machine measures - less production space required
Robust and proven technology in a small footprint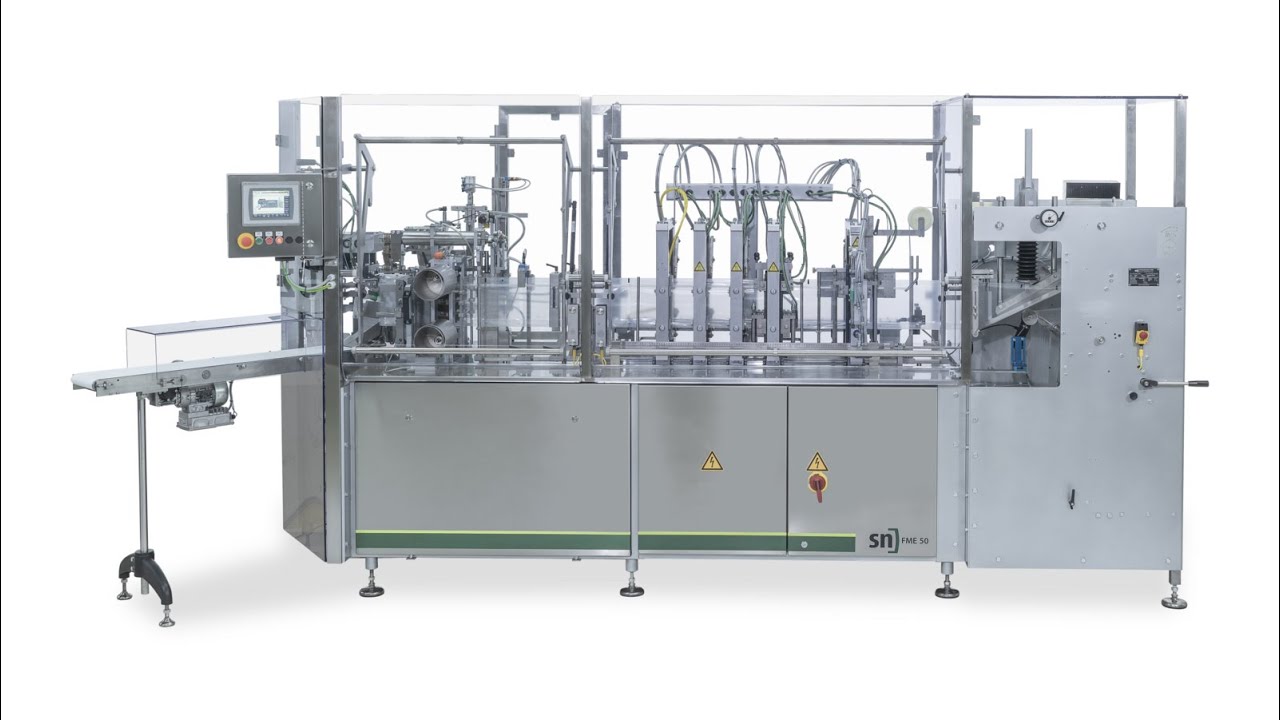 The FME 50 is an intermittent operating rotary machine to manufacture various types of pouches: 3-sides or 4-sides sealed pouches, stand-up pouches and bottom fold type pouches
FME 50 Packing Machine Possibilities
The FME 50 is as versatile as our customers' products are in its ability to package these products gently and safely. Despite its small size, the FME 50 offers a high degree of flexibility for product packaging from a wide range of industries. And this with up to 100 cycles per minute –depending on the product and the pouch size.
With the optionally available auger dosing system, which has been specially developed for the FME 50, protein powder, cocoa powder, spices, sugar, but also chemical powders, for example, can be filled with high precision.
Scale dosing enables the precise filling of all kinds of chunky goods, such as snacks, pet food or household products. SN offers a synchronization for a multihead weigher including filling flaps and format parts. The scale itself can be ordered from SN or is provided by the customer. Special features such as product protection gassing are available, too.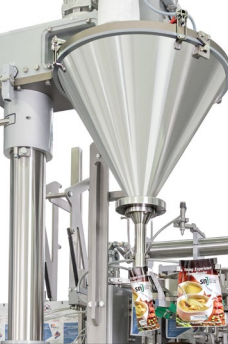 From spices, herbs and ready mixes to instant products and protein powder, our SDE 10 auger dosing system offers simple, reliable and precise dosing. A stainless steel storage hopper and an infinitely variable agitator are standard features of the SDE 10. The screw dosing unit can be swiveled out for more convenient cleaning. The integrated height adjustment by handwheel also ensures reliable reproducibility for recurring product changes.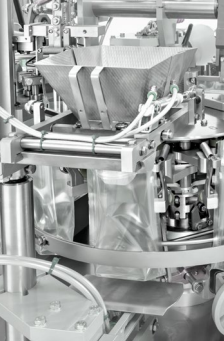 Chunky and solid products are available in countless variations, such as prepacked or unpacked confectionery, snacks, nuts, cereals, but even pet food and dairy products such as grated cheese or mozzarella pieces. The product drops from a dosing scale mounted above the FME 50 into the filling flaps at precisely timed intervals. These are diving into the open pouch and thus ensure optimum filling. In addition to a vibrating unit and pouch support, a product gassing unit can also be implemented.